Skydive Gift Certificates - A Great Gift Idea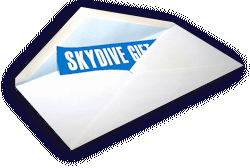 Give the
ultimate adventure!
Buy a Skydive Central New York Gift Certificate for your friends, family or even
reward yourself.
What a great gift idea for birthdays, holidays, graduations, or any other special event! This gift is that one special gift they never saw coming. Just purchase your gift certificate below and we'll email you the certificate within a matter of days. Then, the lucky person can bring the certificate with them when they come to jump and their jump or first jump course will be free of charge!
The person redeeming the gift certificate must be 18 years of age or older, under 210 pounds and height and weight proportionate. Gift certificates are valid for the entire 2018 season. It is non-refundable but it may be transferred to another person for an administration fee. Gift certificates do not get extended due to weather.
Once your order is completed, your gift certificate will be emailed to you within 72 hours.
Purchase Skydiving Gift Certificates Below
Please note we accept all major credit cards through our PayPal checkout.
You do not need to have a PayPal account to use our checkout!

Tandem Skydive
see definition

Price Each: 249

Tandem Skydive
With Video
see definition

Price Each: 348

Tandem Skydive
With Pictures
see definition

Price Each: 338

Tandem Skydive
With Video and Pictures
see definition

Price Each: 368

AFF (Solo) First Jump Course
and 1st Jump
see definition

Price Each: 399

Visit Our Square Store
With T-Shirts & More...
shop now