Group Reservations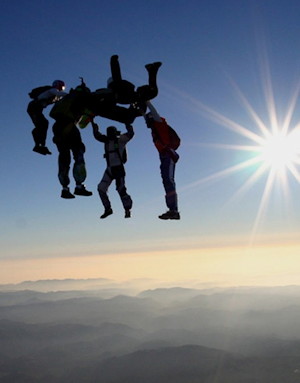 We offer a discounted rate for groups of 5 people or more. We do this because the Group Organizer takes responsibility for handling the reservation as well as organizing and informing the group of our terms and handling all communications with us. A group booking guarantees us a certain amount of people who are willing to jump within the next year even in the event that weather or mechanical issues postpone the jump. This reduces our workload and associated costs; as a result we can give you a lower price.
Please review the Terms and Conditions carefully before booking your group reservation.
1. A $50 per person group deposit is required. It is non-refundable and the reservation cannot be canceled. In the event of weather or mechanical issues the jump will be rescheduled for another day. The deposit will remain on account with Skydive Central New York and the Group Organizer will have up to one year to reschedule. After one year the deposit will be forfeited. Upon rescheduling the same terms and conditions will apply.
2. All jumpers must be 18 or older with photo identification (US or Canadian Drivers License or Passport). These are the only acceptable forms of identification.
3. All jumpers must be under 210 lbs with the clothes and shoes you plan on jumping in, height/weight proportionate. If you are over 210 lbs and are physically fit some exceptions MAY be made on a case-by-case basis up to 230 - 240lbs. Please email
jump@skydivecny.com
for more information before you make your reservation.
4. All jumpers must be in good physical and mental health.
5. All jumpers must be 100% alcohol and drug free upon arriving to skydive.
6. Absolutely no alcohol is allowed on the airport until the last load of the day has landed.
7. Upon arrival all jumpers may pay separately with cash, Visa or MasterCard. The $50.00 per person deposit will be subtracted from the jump price.
8. If any jumpers do not show up, are not on time or do not meet the requirements the $50.00 deposit will be forfeited. The jump price will be re-adjusted for the size of the group that is remaining.
9. Not valid with any other specials, discounts, offers, coupons, etc.
10. All reservations are held regardless of weather. This ensures that you will be trained and ready to go when the weather clears or if your jump must be rescheduled.
11. Time: Plan on spending at least 4 hours, longer for larger groups. We can usually get you skydiving sooner, but many variables such as weather, aircraft availability and other students could extend your stay with us. Feel free to bring other things to do just in case. Bringing light snacks and water is also highly recommended.
Your group is going to have a great time.
To book your group reservation or if you have any questions please email us at: jump@skydivecny.com with the amount of people, date you are interested in and your phone number or call us at 315-535-7777. Please add jump@skydivecny.com to your safe list so you don't miss any correspondence.