Your First Jump
▼ AFF (Solo) | Tandem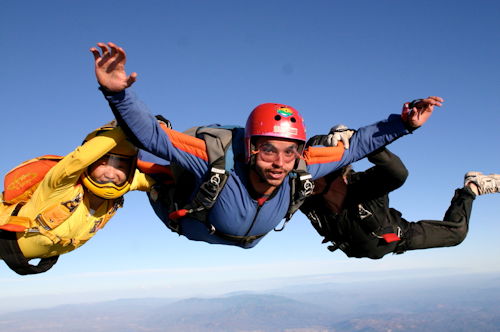 Learn to Skydive
Our Accelerated Free Fall Training program is the most advanced and highly developed first-jump training program in the world. If you are interested in learning to skydive by yourself (solo) and becoming an accomplished licensed skydiver quickly this is the course for you.
In our comprehensive 5-6 hour ground school you will learn everything you need to know to make a safe jump wearing your own parachute. You will learn about the skydiving equipment, the aircraft, the free fall, parachute flight, and how to safely and effectively respond to malfunctions and emergency scenarios.
After the classroom training you will take your newly-acquired skills to the air as a working tandem for your
AFF Level 1
. As you continue to AFF Levels 2 through 8 one or two instructors will grasp both sides of your parachute harness to assist with stability and additional moral support. When the desired altitude has been reached the three of you will exit our airplane and accelerate to over 120 miles per hour for up to 50 seconds! Then the much anticipated Level 9, your first solo. That's correct, you will have learned enough at this point to be on your own without any instructors.
Next, you will open your parachute and enjoy a breath-taking five-minute flight as you glide quietly over the rolling hills and incredible views of Central New York. Yes, your parachute will truly fly. You will steer your parachute during your descent, with assistance from an instructor on the ground, guiding you with a radio in your helmet.
After your jump, you will receive a first-jump certificate and a logbook in which your instructor's constructive feedback will be recorded, highlighting the strengths of your performance as well as areas to consider improving for the next step in your adventure into human flight.
As you progress through each learning level our instructors will outline the next lesson plan and explain the new objectives until you have earned your skydiving license. To earn your skydiving license you must successfully complete 25 levels (See Student Program Below). This course is designed for people who want to get their skydiving license and have the time and dedication to complete the course. If you only want to do one jump or are not sure please check out our
Tandem Page
for an introduction to skydiving.
Free Video:
AFF Jumps levels 2 – 8 and all of our coach jumps come with a free training video. This service is invaluable when it comes time to review your skydive. At the completion of your jump you and your instructor will review the video together. This will drastically improve your learning experience and it has been proven to save repeat jumps. This is over $1,300 in free video that is included in our student program and another great reason to choose Skydive Central New York.
2018 AFF First Jump Course Schedule
The AFF First Jump Course (FJC) is 5 – 6 hours long.
May
Wednesday the 2nd at 4pm
Wednesday the 23th at 4pm
June
Wednesday the 6th at 4pm
Wednesday the 27th at 4pm
July
Wednesday the 18th at 4pm
August
Wednesday the 8th at 4pm
Wednesday the 29th at 4pm
September
Wednesday the 19th at 4pm
October
As needed. If you are interested in a FJC in October please email us at jump@skydivecny.com with your contact information and the all dates you would be available. As long as we can get 3 people we will hold the FJC.
Jumping can start as soon as the next morning weather and other students permitting. All AFF Students must complete and pass this course before their first jump.
AFF Prices:
To request an AFF Student Price List please email:
jump@skydivecny.com
Student Program
Levels 1 - 8 are Accelerated Freefall (AFF). This is where our instructors will teach you the basics.
Level 1
- First Jump Course and First Jump
Level 2
- Altitude, Body Position, Leg Awareness
Level 3
- Team Turns
Level 4
- Release Hold Heading
Level 5
- 90° Turns
Level 6
- 180° Turns
Level 7
- Back Flips
Level 8
- Barrel Rolls
Levels 9 - 25 are Coach Jumps. This is where our instructor's and coach's will help you refine the skills you learned in AFF.
Level 9
- Solo
Level 10
- Tracking
Level 11
- Forward Movement
Level 12
- Forward Movement
Level 13
- Up/Down
Level 14
- Up/Down
Level 15
- Swooping
Level 16
- Swooping
Level 17
- Center Point 90° Turns
Level 18
- Center Point 180° Turns
Level 19
- Back Fly
Level 20
- Sit Fly
Level 21
- Hop-n-Pop Emergency Exit
Level 22
- Solo
Level 23
- Solo
Level 24
- Solo
Level 25
- Check Dive
Congratulations you have just earned your A-Skydiving License!!!
AFF Prices:
To request an AFF Student Price List please email:
jump@skydivecny.com